While Electrical Engineers deal with the supply and flow of power, Electronics Engineers deal with creating and testing electrical circuits and integrating them into the electronic equipment we use. This course – Electrical and Electronics Engineering (EEE) amalgamates both and shapes you to contribute to technological advances that can change the way we live.
A Sneak Peek into your Future
The job prospects for electrical and Electronics Engineers are very high, as they are responsible for developing new technologies for a wide range of industries – transportation, communication, healthcare, robotics, construction, IT, to name a few. These Engineers are in great demand all over the world, and this course is a real boon for undergraduates looking for a successful career.
Rapid technological growth, a revolution in information and consumer technology and in the digital media, a pressing need for sustainable solutions for energy and transport, development of advanced networks such as the Smart Grid, the seamless interweaving of computing and manufacturing, advances in medical science, aerospace, robotics, and artificial intelligence – these are some of the global trends and key challenges today. And all this can only mean a robust and growing demand for Electrical and Electronics Engineers.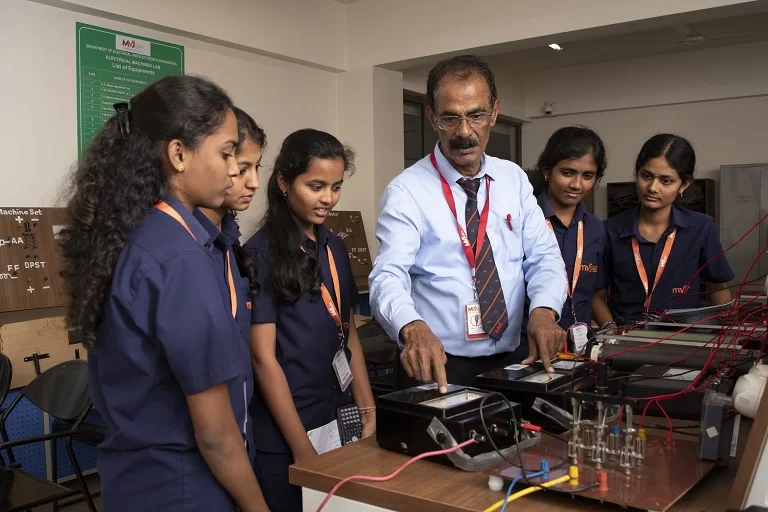 EEE graduates get deployed everywhere - from wireless telecommunications companies to fiber optic network centers, to banks, and system integrator companies. You can get placed in sectors such as Medicine, Energy, Oil and Gas, Telecom, Railways, Metros, Broadcasting, Information Technology, Power generation and distribution, Aviation, Armed forces Manufacturing. Various government organizations like SAIL, BHEL, ONGC, PGCIL, DRDO, and many others offer exciting job opportunities. The choices are unlimited and exciting!
EEE is one of those branches of Engineering which has fantastic scope for Research, too. You can reduce our carbon footprint on this earth, by developing renewable energy solutions, rolling out smart energy grids, or designing all-electric vehicles. An Electrical and Electronics Engineer can make a groundbreaking difference to society. Renewable energy, Smart Grid, Soft Computation, Power Electronics and Drives, High Voltage Power Systems, Instrumentation, VLSI, Microcontrollers, Communication systems, and embedded systems are some of the major research areas in this field.
Why a Degree in Electrical and Electronics Engineering from MVJCE?
At MVJCE, the guiding principle is 'Each and every student has enormous potential which can be brought out and honed, to benefit society. Hence, every student will be personally guided by Professors who hand-hold you, right from the moment you enter the College. Moreover
MVJCE is one of the best colleges in Bangalore for Engineering courses.
It ranks 8th among the top Engineering colleges in Bangalore.
It is an autonomous institute,and hence offers a tailor-made program in Computer Science Engineering, with the ultimate goal of making every student industry-ready, at the end of 4 years of his study here.
It is approved and recognized by all the premier educational bodies in India like AICTE, UGC, NBA and NAAC, and is also affiliated to VTU.
It offers ample scope for 'learning outside the classroom' – the academic calendar is filled with Workshops, Seminars, Projects, Tech events, Guest lectures, Competitions and contests and Field trips.At such events, the students get to interact with the best in the Industry and Academia, and benefit from these interactions.
It boasts of state-of-the-art infrastructure – modern classrooms, fully equipped labs, and a great ambiance set in 15acres of lush greenery.
It has dedicated and experienced faculty who employ state-of-the-art tools and technologies to transform every student into a skilled Engineer.
It offers a holistic EEE course - right from power systems and computer architecture to control engineering and power electronics, the EEE course at MVJCE will fill you upon the most intricate details regarding numerous interesting topics such as microcontrollers, power electronics, electric signals, and more.
It hones your conceptual as well as practical knowledge, by offering the exclusive opportunity to work in an industry-supported lab, the Electrical Machines Lab, which is directly supported by the IFB Industries. (The Motor Division of IFB Industries has sponsored One Universal motor and its main assemblies, to benefit our students.)
It will offer you the experience and expertise to be able to adapt yourself in large industrial settings.
It will whet your problem-solving and analytical skills which are the most important skills for any Engineer to possess.
It will help you get an assured placement at the end of your 4-year study, as reputed companies visit MVJCE to recruit fresh talents.