Since the time human beings inhabited this earth, the desire for flying like a bird has been a very intense one. A flying bird has always intrigued man. So, the development of flying machines indeed marked a pathbreaking epoch in human life. And in modern times, the Aviation industry has taken a giant leap. Hence, whilea studenthas several options for his Engineering course – Mechanical, Chemical, Civil, Computer science and so on - the niche area of Engineering would certainly be Aeronautical Engineering, hands down! It's not very 'mainstream' – it's a specialized field and looked upon as the very symbol of emerging technology.
Aeronautical Engineering is the branch of study that deals with the design, testing, manufacture, maintenance and research of air-borne vehicles like airplanes, jet planes, helicopters, drones etc. An Aeronautical Engineer plays a big role in improving flight safety, fuel efficiency andhe has a social responsibility too, as he is also concerned with the impact of air travel on the environment.
A Sneak Peek into your Future
There is an exponential increase in the job opportunities, both in government and private sectors, for Aeronautical Engineers. Airlines are constantly increasing their fleet size, as air travel becomes more and more affordable to more people.Government, defence services, space agencies and private companies are constantly on the lookout for skilled Aeronautical Engineers to develop systems and flying machines.
An Aeronautical Engineer can get jobs relating to design, manufacture, maintenance, overhauling and repair of aircrafts and aircraft parts. Public sector organizations like HAL, DRDO, ISRO, NAL, Helicopter Corporation of India, ADA etc. and private companies like Capgemini, Airbus, GE, Honeywell, Rolls Royce, Tata Motors, andflight clubsand commercial airlines offer lucrative jobs. An Aeronautical Engineer can find positions in space missions, or with the Airports Authority of India, or in the Indian Air Force.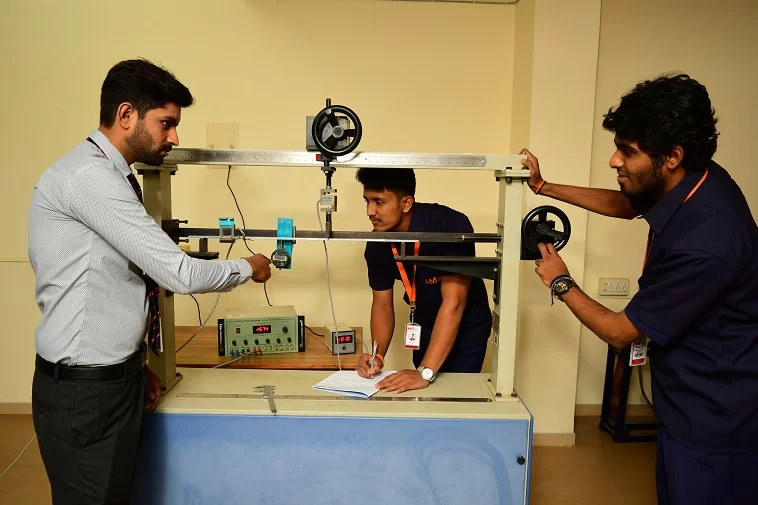 The work areas of an Aeronautical Engineer are becoming broader, with growing technology. After completing Aeronautical Engineering, you will be eligible in the design and manufacture of not only aircrafts and space crafts, but also turbines, bullet trains etc.An Aeronautical Engineer can design products in areas such as car racing, he can carry his skills into the defence sector to design missiles, fighter planes rockets or satellites.There is a lot of scope for research too, in this field – there is a constant endeavor to improve the existing fleet, produce aircrafts which are less noisy and more fuel-efficient.Aeronautical engineers can also apply for roles that require Mechanical Engineers.
If you are the kind who is innovative, brimming with a passion to create something new, you can even set up your own start-up to cater to areas such as aeromodelling, drones, UAVs etc. And on a lighter note, as an Aeronautical Engineer, you can travel a lot and see the world!With the growth in air travel and the demand for high-speed and safe travel on the rise, the opportunity to revolutionize the next generation of aircrafts is all yours.
Why a Mechanical Engineering Degree from MVJCE?
At MVJCE, the guiding principle is 'Each and every studenthas enormous potential which can be brought out and honed, to benefit society'. Hence, every student will be personally guided by Professors who hand-hold you, right from the moment you enter the College.Moreover,
It is one of the best colleges in Bangalore for Engineering courses.
It ranks 8th among the top Engineering colleges in Bangalore.
It is an autonomous institute,and hence offers a tailor-made program in Computer Science Engineering, with the ultimate goal of making every student industry-ready, at the end of 4 years of his study here.
It is approved and recognized by all the premier educational bodies in India like AICTE, UGC, NBA and NAAC, and is also affiliated to VTU.
It offers ample scope for 'learning outside the classroom' – the academic calendar is filled with Workshops, Seminars, Projects, Tech events, Guest lectures, Competitions and contests and Field trips. At such events, the students get to interact with the best in the Industry and Academia, and benefit from these interactions.
It boasts of state-of-the-art infrastructure – modern classrooms, fully equipped labs and a great ambience set in 15acres of lush greenery.
It has dedicated and experienced faculty who employ state-of-the-art tools and technologies to transform every student into a skilled Engineer.
It will prepare you for designing, developing, testing, maintaining and operating commercial airplanes, military aircrafts, and their components.
It will groom you to contribute in a big way to the field of Aviation, preparing you for the next stage of the aviation revolution.
It will strengthen your foundation in Physics, Mathematics and Computer Science, providing you a sound understanding of the basic concepts – important ingredients for a good Aeronautics Engineer.
It will ensure thoroughness and hard work in you - both pre-requisites for becoming a skilled Aeronautical Engineer.
It will equip you with hands-on experience in aircraft manufacturing, mechanics and engineering, thus preparing you for the road ahead.
It will whet your problem-solving and analytical skills which are the most important skills for any Engineer to possess.
It will help you get an assured placement at the end of your 4-year study, as reputed companies visit MVJCE to recruit fresh talents.