Information Science Engineering is the branch of engineering which deals with the categorization, collection, storage, and restoration of information. It also deals with the processing and interpretation of raw data, so that it can be used for a productive purpose. Information Science Engineering professionals deal with day-to-day situations in business and industry- like handling automation systems, managing real-time online systems, handling the database of the organization, etc.They manage the accounting system and decision support system of an organization. They monitor live projects. They administer e-commerce, e-business, e-learning, e-governance systems, etc.In short, Information Science focuses on the business applications of computer-related knowledge, to solve organizational problems and issues.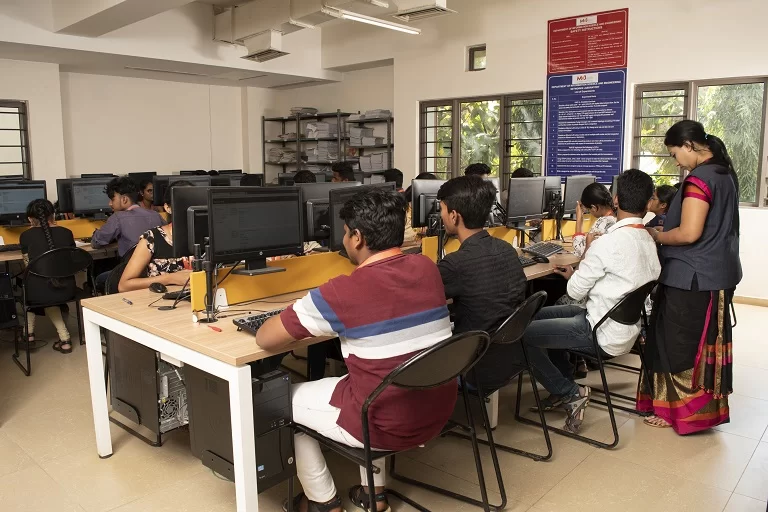 A Sneak Peek into your Future
The field of Information Science has been the catalyst to make man's life simpler and smoother. Technology has brought about a sea change in the way we do things, the way we function in our daily life. As such, Information Science is one of the most promising career fields, today. At the forefront of development in the Engineering field, Information Science field is taking giant strides, every year. As a result, it is offering an abundance of career opportunities to freshers, kickstarting their careers. Options are plenty, as there are many different domains to choose from – this ensures that a career in Information Science is never boring! Considering the fact that a large part of this field revolves around data, wherever data transfer is happening, Information Science Engineers are always in demand. Besides data management, you also get to solve networking and security issues. You are this 'much-in-demand person' – whenever any employee in your organization faces any technological issue, you are the troubleshooter!
India's digital economy is on a roll, with the market projected to reach USD 1 trillion, by 2025. It is predicted that job opportunities for Information Science, Computer Science, and other technology-related majors will undergo a 13% growth between 2016 and 2026. As an Information Science Engineer, you can be involved in the development of application software such as those used in e-commerce, accounting, database management, customer relations, etc. You can also play a big role in developing mobile application software such as the Uber App, Swiggy App, and the numerous apps that you use in your daily life. You can find roles that involve installing, testing, running, and maintaining software systems and networks.
So, a degree in Information Science and Engineering will ensure that you have nothing to worry about when it comes to job availability and a good pay package.
Why a Degree in Information Science and Engineering from MVJCE?
At MVJCE, the guiding principle is 'Each and every student has enormous potential which can be brought out and honed, to benefit society. Hence, every student will be personally guided by Professors who hand-hold you, right from the moment you enter the College.
MVJCE is one of the best colleges in Bangalore for Engineering courses.
It ranks 8th among the top Engineering colleges in Bangalore.
It is an autonomous institute,and hence offers a tailor-made program in Computer Science Engineering, with the ultimate goal of making every student industry-ready, at the end of 4 years of his study here.
It is approved and recognized by all the premier educational bodies in India like AICTE, UGC, NBA and NAAC, and is also affiliated to VTU.
It offers ample scope for 'learning outside the classroom' – the academic calendar is filled with Workshops, Seminars, Projects, Tech events, Guest lectures, Competitions and contests and Field trips.At such events, the students get to interact with the best in the Industry and Academia, and benefit from these interactions.
It boasts of state-of-the-art infrastructure – modern classrooms, fully equipped labs, and a great ambiance set in 15acres of lush greenery.
It brings to you the valuable guidance of innovative and experienced educators who will prepare you for a successful career.
It offers a holistic CSE course – one that will empower you with all the in-demand skills.
It nurturesin students, an investigative, problem-solving mindset – a mindset that is required to write codes, work with computer architecture, or create new technology/solutions.
It helps you gain not only a scientific and logical understanding of cutting-edge topics but also develop the employability skills required for succeeding in the fast-paced, ever-evolving technology industry.
It enables a steady stream of projects where students can build and test software and hardware systems.
It offers the space and opportunity for both collaborative team work as well as individual effort, thus preparing you for the road ahead.
It whets your analytical skills, critical thinking, programming skills and knowledge in Web development, which are the most important skills for a Computer Science Engineer to possess.
And it will help you get an assured placement at the end of your 4-year study, as reputed companies visit MVJCE to recruit fresh talents.